CIOReview India: Empowering Businesses with
Microsoft Power Platform – Power BI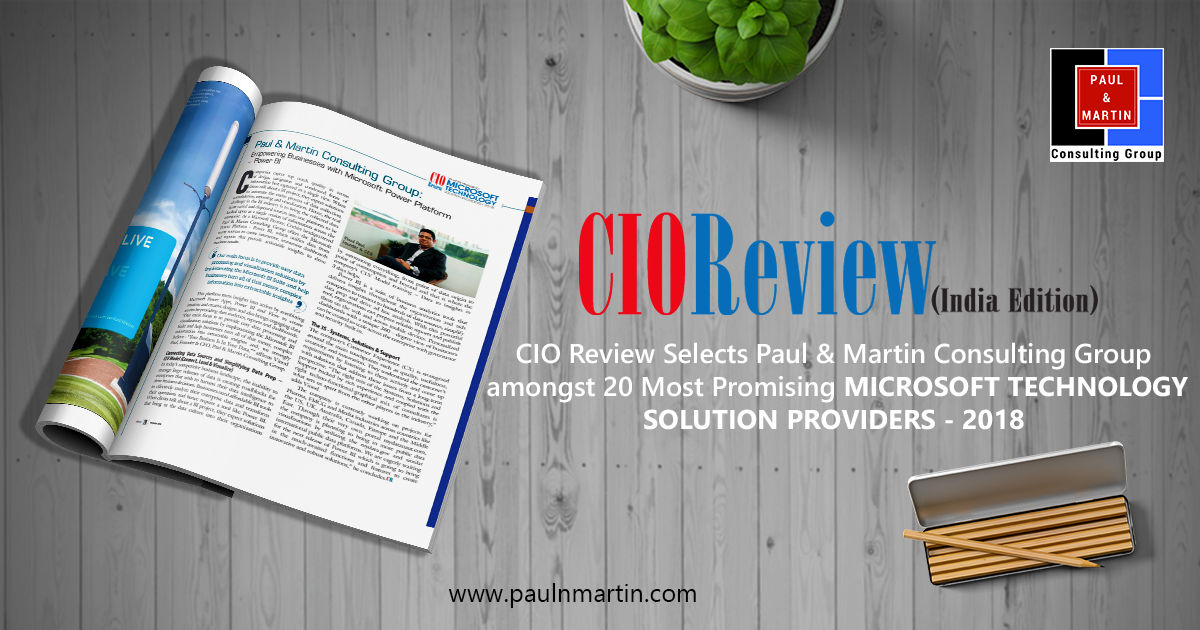 CIOReview India recognizes Paul & Martin Consulting Group as one of the "20 Most Promising Microsoft Technology Solution Providers - 2018" in commendation for our unbridled strive towards excellence and innovation in this field.
11 JAN 2019, Cochin, India
With over a decade of expertise in Corporate Performance Management (CPM), Business Intelligence (BI) and Data Visualization domain, as Microsoft Partner for Power BI, we bring on board our experience of having successfully implemented more than 150+ projects in over 20+ countries across 14+ industry verticals covering FMCG, Pharmaceutical, Media, Health, NGO, Banking & Finance, Sports, Utilities, IT & ITES to name a few. This CIO Review honor has been featured in the 2018 Special Edition as seen here.
"We are glad to announce Paul & Martin Consulting Group in our annual roll of honor of Most Promising Microsoft Technology Solution Providers - 2018," said Sudhakar Singh, Editor of CIOReview India.

"Our selection as most promising Microsoft Technology Solution Providers is a great honor and adds to our earlier recognition from Microsoft as winners of the Microsoft Power BI 'Global Sweepstake Challenge' for the FIFA World Cup 2018 visualization we did in PowerBI", said Paul & Martin Consulting Group's Founder and CEO Vinod Paul.


About CIOReview India
CIOReview is a leading technology magazine which talks about the enterprise solutions that can redefine the business goals of upcoming enterprises. It is a sensational platform for enterprises to showcase their innovative solutions. In India, many times we see that, there is a vacuum among entrepreneurs of enterprise startups. CIOReview helps to reduce this gap by helping business leaders with analysis on information technology trends and gives a better understanding of the role that enterprise solutions play in achieving the business goals. It also gives companies a heads up on the innovative solutions that the startups are working on, what are the needs that haven't been met yet and more.
Read the full article on the digital edition of CIOReview magazine (Page 28)